For those of you who knows where's FGA Church at Old Klang Road (the turning to Kuchai Lama/Happy Garden) for sure will know these night stalls that open next to FGA. (If you're at Old Klang Road coming from PJ/KL, turn left at the traffic light after the Old Klang Road wet market, the stalls are immediately on your right) There are a variety of food there such as wan tan mee, lamb, prawn mee, chee cheong fun, tong sui, satay, stir fries etc. For the past many years, me and my family often patronize this area because of the nice wan tan mee and chee cheong fun and the satay.
(But recently they seemed to have some arguments and categorize the seatings. E.g: If you sit here, you cannot order from there. If you sit there, you cannot order from here. :p) So, the best place is, sit at the seats near to the shop lots or AT the shop lots (near the satay stall).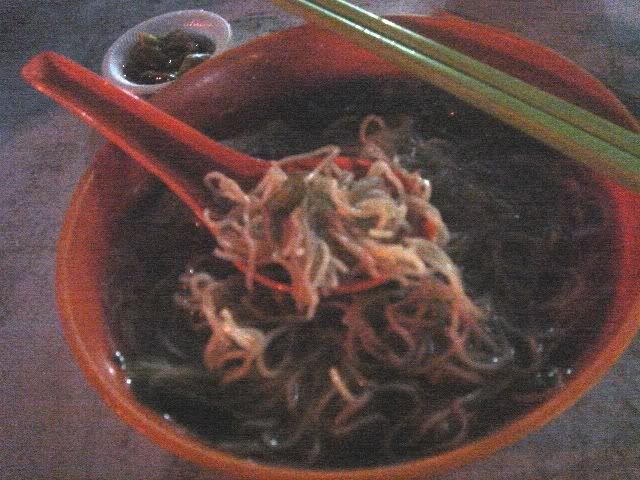 The whole family run the business. I personally like their wan tan mee. Very nice texture. (But sometimes the owner mood swing then not nice ler) :p
For those of you who likes to drink Sa Lei juice (some call it Umbra), you can get it here. Umbra with a couple of sour plums. Yum yum.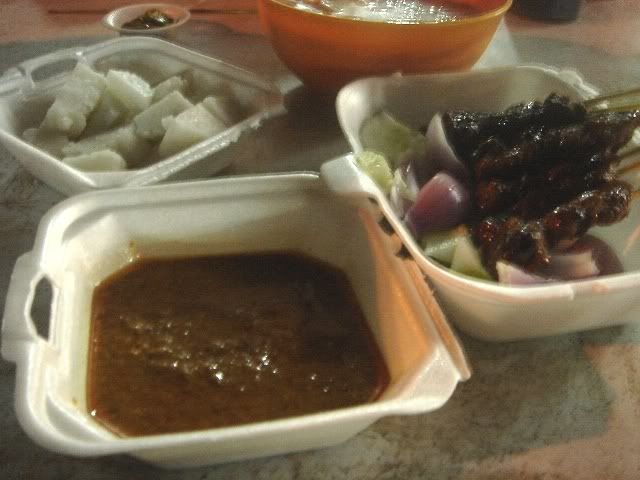 Satay! Yum yum. Recommend you the Kambing satay. It's heaven. This Malay couple started small, until now, still maintain small. Selling it at night, sometimes catering for functions. My dad always find him to cater satay for functions. Very down to earth guy. Don't talk bad of him in Chinese, he knows what you're saying one :D:
There's another stall that sells chee cheong fun, sotong kangkung, and tong sui. Well, chee cheong fun everywhere has similar taste. It's good lah overall :)
The stalls are open at night, dinner time until about midnight. Can't remember when they are closed though :S With less than RM10, you can eat until full full :)
And oh, at the shop lots, there's this bakery shop that sells Siew Pao, Kaya Puff, Heong Peang etc. I lovveeee their Pork Siew Pao. Yum yum! Better than the Seremban one i feel :p Sorry lah, my personal taste ma. :D: